Greatwall Wingle 6 Hardtop Canopy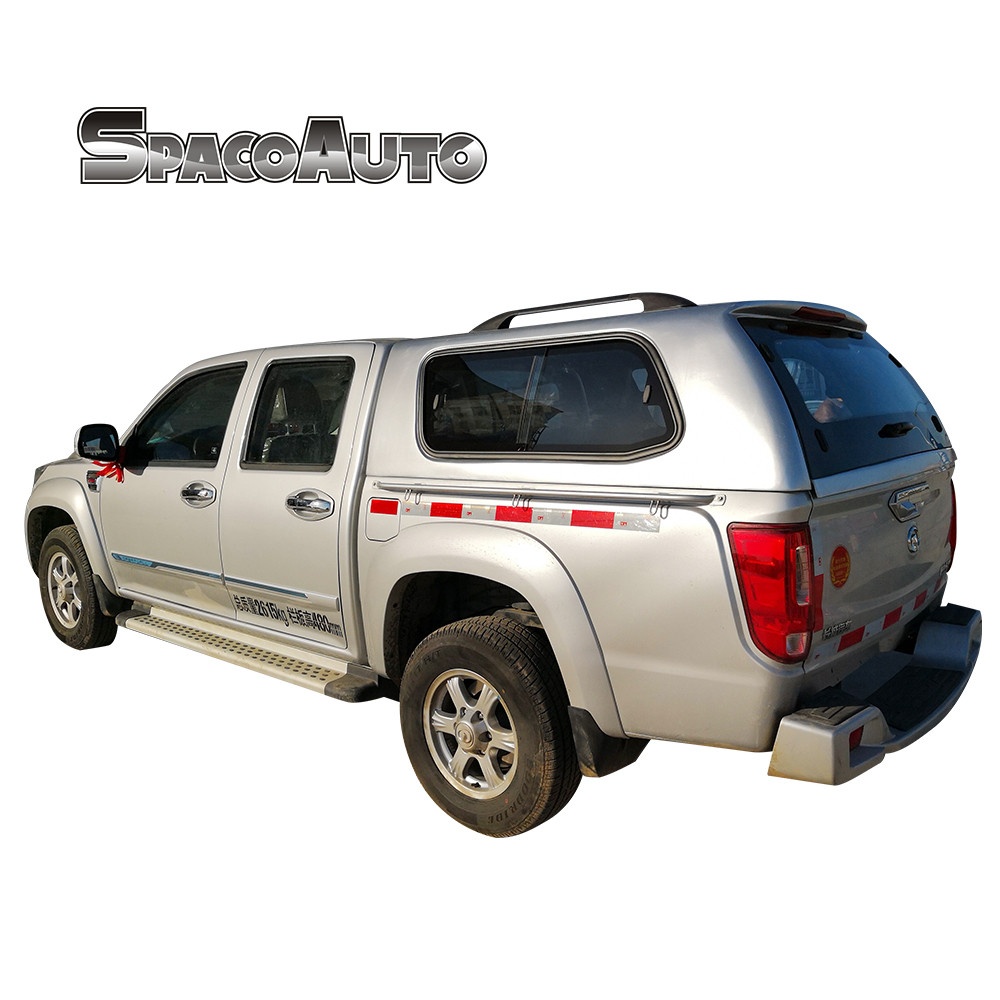 Greatwall Wingle 6 Hardtop Canopy
Pick up truck Canopy-Hardtop
1)-Profession supplier in China
2)-Covered almost Japanese pick up truck models
3)-High quality rial to Thailand Canopy/Hardtop
4)-More competitive price than Thailand
5)-2 years manufacture warranty
Features and benefits:
1.High quality engineered material is used to mould the inner and outer shells for high impact resistance.
2.Fiberglass inner and outer shells provide an extremely light weight free of metal frame which is prone
to trust.
3.Light weight , solid, strong and rust-free throughout its lifetime
4.Fiberglass with high specific strength
5.Perfect water-proof
6.Good electrical insulating /heat insulating characters
7.Manufacture two years warranty
8.Well fit the pick up truck luggage without any leak
1, Canopy/Hardtop details:
2.Product photos:
3.Canopy/Hardtop List:
Model No
year
car
description
SP1208
2015+
Toyota Hilux REVO
Double cab
SP1191
2005~2014
Toyota Hilux vigo
Double cab 1.52m bed
SP1193
2008~2010
Ford Ranger/
Double cab 1.53m bed
Truck bed Inner Size 1530x1460x465mm
2008~2010
Mazda BT-50
SP1194
2012~NOW
Ford Ragner
Double cab
SP1195
2012~NOW
Mazda BT-50
Double cab
SP1196
2005~2014
Nissan NAVARA D40
Double cab 1.48m bed
SP1197
2015+
NISSAN NAVARA NP300
Double cab
SP1207
2001-2010
NISSAN D22
Double cab,Bed Interior Size 1395x1390x430
SP1198
2006~2010
Mitsubishi L200
Double cab standard bed
1.325m bed
SP1199
2011~2014
Mitsubishi L200/Triton
Double cab long bed
1.5m bed
SP1206
2015+ new
Mitsubishi Triton
Double cab
SP1199
2003+
Isuzu Dmax
Double cab 1.38m bed
SP1200
2015+
Isuzu Dmax
Double cab 1.48m bed
SP1201
2011+
VW Amarok
Double cab 1.47m bed
SP1202
2006+
Greatwall Wingle 5
Double cab 1.38m bed
(Bed Inside Size 1380x1460x480mm)
SP1202
2012+
Greatwall Wingle 6
Double cab
Bed Inside Size 1545×1460×480mm
SP1203
2011-2018
Fonton Tunland
Double Cab, Rear Box Inside Size 1520×1580×440mm
SP1300
2016+
SAIC MAXUS T60
Double cab
SP1301
2007-2014
Ford F150 Raptor
Supercrew Cab, 5.5' Short Be
SP1302
2017+
Ford F150 Raptor
Supercrew Cab, 5.5' Short Be
SP1303
2007+
Toyota Tundra
CrewMax, 5.5' Extra Short Bed
SP1304
2014+
Toyota Tundra
CrewMax, 5.5' Extra Short Bed
Spaco auto is a professional manufacturer of exterior&interior to fit all the popular 4x4 off-road vehicles like Pick Up, Jeep and SUV etc.
Our current product line including:
Pick up truck canopies(hardtop)

Pick up truck tonneau covers

Pick up truck bedliners

Pick up truck roll bar

4x4 off-road Front Guard/Rear Guard

LED Light Bar&Working light series for all 4x4 off-road

Side Step Running Board Stainless Steel Side Bar

Roof Rack/Luggage Rack/Bicycle carrier Series
The advantages we have:
We mainly focus on 4x4 off-road cars with more than 10 years manufacturing and exporting history. Based on our professional RD team, we provide ODM service to make the customized samples according to clients offering sample or design. Efficient production time and special tooling open/sample avaailable time.Reasonable pricing level in high level quality. Let's win-win together!